In the quest for gorgeous, glowing skin, it can be confusing deciding on the best products for your skin. It seems like there's always a new (usually unpronounceable) formula or ingredient hitting the shelves and promising miraculous results.
And while it's true that we've made some fantastic breakthroughs in skincare recently, some ingredients are so timeless and effective that they deserve a permanent place in your skincare routine.
Vitamin C is one of these.
A dermatologists' favourite, this little gem is recommended all the time – because it works!
So if you're wondering, 'What is Vitamin C good for?', we have the answers.
Let's take a look at vitamin C and your skin.
So, what is Vitamin C?
Vitamin C is a potent antioxidant. It is a water-soluble vitamin your body cannot produce by itself, so you need to include enough Vitamin C-rich foods in your diet every day. Citrus fruits are great for this, although there's a whole host of fruits and vegetables that can help you reach your daily requirements.
What does Vitamin C do for the skin?
Why is Vitamin C important?
It fights off free radicals – harmful substances that wreak havoc on your body, causing everything from cancer to premature aging.
It also helps your body to repair itself and your cells to work normally.
Is Vitamin C good for your skin?
So we say that's a solid, yes, to vitamin c is good for the skin.
So, if you can eat some oranges or take a supplement to meet your dietary requirements for Vitamin C, is that enough to ensure excellent skin?
Well, no…
Although eating Vitamin C-rich foods is essential for your health, if you want to see glowing skin results, you'll need to apply a Vitamin C-rich product directly to your skin. This is because topically applied Vitamin C is up to 20 times more potent than when it's taken orally. By using it directly on your skin, you're telling it where to go to work.
And go to work it does!
Vitamin C for skin – what makes it a healthy skin hero?
Health Benefits of Vitamin C
If you're wondering about the health Vitamin C benefits for your skin, there are so many! It's a powerhouse ingredient that improves many common skin concerns, from sun damage to acne scarring to hyperpigmentation. New users often say they can see a positive difference straight away. Of course, more significant benefits are seen over time, so consistent use is the best way to achieve the results you're seeking.
Does Vitamin C help pigmentation and sun damage?
Yes! Vitamin C is one of the best choices for treating pigmentation or photodamage to your skin.
Some skin brighteners act by lightening all your skin, producing disappointing results because there's still a noticeable difference in skin tone. Your skin will appear lighter all over, but still splotchy.
Vitamin C is different!
It explicitly targets darker areas and inhibits excessive melanin production in your skin. Melanin is the dark pigment that sometimes shows up as dark spots, blotches or uneven skin tones. Because of this targeting action, you can safely apply Vitamin C to your whole face – it will slow the arrival of new dark spots and even fade existing patches over time.
It is also a potent antioxidant, strengthening and protecting your skin against further damage. Vitamin C is perfect for daily protection against UV rays and pollution – and as an emergency repair treatment after sunburn, where it will act to reduce inflammation and minimise the chances of dark spots forming.
Please wait until the initial redness subsides before applying Vitamin C to your skin, and always use a broad-spectrum sunscreen as the final layer in your skincare routine. By using a suncream helps protect the product on your skin, giving it time to work. And let's be honest, if you're serious about your skin health and beauty, sunscreen is ALWAYS important.
Regular use of topical Vitamin C along with daily sunscreen application could even help protect against some precancerous changes in your skin. What a win!
Does Vitamin C help reduce wrinkles?
Yes!
Vitamin C is essential in activating enzymes that boost collagen production in your skin. It's crucial for cross-linking collagen molecules.
No Vitamin C = lower collagen levels.
By applying Vitamin C directly to your skin, it's highly acidic pH prompts your skin to heal itself. It does this by producing collagen and elastin, both of which are crucial for firm, plump, youthful skin.
The appearance of sagging skin, loss of firmness, and fine lines and wrinkles are all improved over time with regular use, leaving you looking younger, brighter and more awake.
Vitamin C side effects
Like any skincare product, your skin can react to Vitamin C.
You may feel a slight burning or tingling sensation just after application, but this shouldn't last very long. If you notice skin irritation, start off slowly, using the product a couple of times a week along with a good nourishing moisturiser.
If you develop a severe irritation, including any hives or swelling, discontinue use immediately and seek medical advice.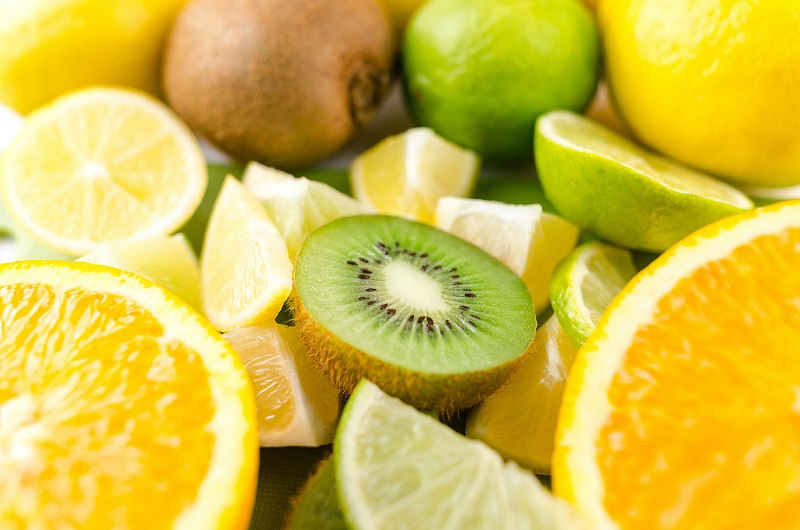 Vitamin C skincare – how to choose a great product
There are lots of products on the market offering Vitamin C as an active ingredient. Choose a serum to make the most of your application. Serums provide a concentrated boost of goodness to target your skin type and concerns.
And of course, what better way to show your skin some love than by nourishing it with a beautiful, natural serum with active ingredients of Vitamin C, Kakadu Plum and Davidson Plum? These native Australian fruits are renowned for their nourishing, revitalising properties. The Derm Team Natural Vitamin C Serum is an absolute must have in your beauty cabinet. The silky formula offers all the fantastic benefits of Vitamin C and no nasties. Are you ready to wake up to bright, youthful, smooth skin?
How to use Vitamin C on your face
Use your Vitamin C serum in the morning to get the best free-radical busting benefits. Apply again at night to give your skin all the goodness it needs to rejuvenate while you get some beauty sleep.
Start by gently cleansing and drying your skin. Apply one or two pumps of serum to your face and décolletage in gentle, upward motions.
Follow this with a great moisturiser. The Derm Team Moisture Galore Moisturiser is the perfect complement to your serum, working to nourish your skin and prevent irritation.
And finally, you guessed it – top with a broad-spectrum sunscreen in the morning or followed with your favourite nourishing oil before bed.
To recap: Here's why we love Vitamin C skincare
Vitamin C is a must-have, superstar ingredient that can transform your skin from dull and splotchy to bright and beautiful. It takes on sun damage, pigmentation, fine lines, sagginess, acne scars and enlarged pores, and wins!